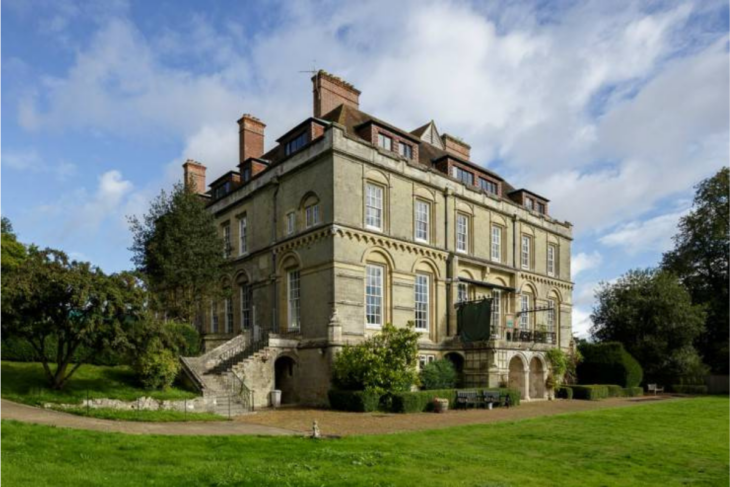 Clouds House is a residential addiction treatment centre in Wiltshire about 25 minutes drive from Salisbury, established in 1983.
At Clouds House, we take your recovery seriously. It is our job to create the right conditions for you to start your journey. We will always provide you with human warmth and kindness, care, dignity and respect, and we will do our utmost to ensure that you feel valued, heard, appreciated, and connected to others. We pledge to keep our treatment model current, safe, proactive, responsive, research-led and clinically effective.
CORE ELEMENTS OF OUR TREATMENT PROGRAMME:
Pre Admission

Once you have contacted Clouds House, you will be supported during the pre-admissions process to understand the treatment programme and structure designed to enable us to provide you with the best possible care.

You will receive an initial assessment to determine your needs and whether we believe Clouse House can help, and to help you decide if you believe Clouds House is right for you.
Medically Assisted Detox

You may have developed a powerful physical dependency on the substances you have been using that causes withdrawal symptoms when you stop taking them. Withdrawal symptoms can be very unpleasant, dangerous and sometimes fatal. The process of reducing this physical dependency to zero is known as detox, short for detoxification, and is carried out through providing medication at slowly reducing levels.

Subject to your medical assessment we will arrange and oversee your safe, comfortable, medically supervised detox.

We are regulated by the Care Quality Commission and adhere to NICE and Department of Health guidelines concerning substance misuse treatment.

Clouds House was rated 'Good' in the Care Quality Commission inspection in December 2018. Our Clinical Lead and Nurse Practitioner have extensive experience in addictions treatment, and our nursing staff provide round-the-clock medical care and support.

We offer medically supervised withdrawal (subject to a medical assessment) from:

–    Alcohol
–    Opiates
–    Benzodiazepines
–    Stimulants and cannabis
–    Prescribed medication
Talking Therapy

Our talking therapy programme consists of 2 core elements:  Interpersonal Group Therapy – the foundation of the Clouds House treatment programme, and Individual Therapy sessions with your Focal Counsellor and other therapists and clinicians as per your individual requirements assessed by the treatment team.

Our flagship model of Interpersonal Group Therapymodel provides a rich and safe environment in which you will gain valuable insights into your relationship with yourself, with others, and with the substances or behaviours related to your addiction. It also provides a safe environment to explore relationship dynamics, challenge others and be challenged yourself, and develop skills that you will then practice in the wider Clouds House community.
Mind, Body & Spirit

Our powerful and diverse combination of somatic therapies complement the talking therapies and give those who may not feel as comfortable in talking therapy the chance to express themselves in other ways and to experience the therapeutic benefits in less formal environments.

This holistic approach includes Massage, Yoga, Zumba, Relaxation, Mindfulness, Exercise For Wellbeing, plus Nutrition, and Healthy Eating Programmes. During Art Therapy sessions clients can illustrate their emotions and journeys no matter what their level of competence, whilst creating the opportunity for people to comment and ask questions. In Dance and Movement Therapy, clients can express emotions and communicate with others through movement, and again no prior experience is needed. Creative Writing Sessions offer clients the ability to use devices such as imagery and metaphor to explore their emotions and to self reflect. Clients also have access to musical instruments and are able to get together for hugely popular informal jam sessions several evenings during the week.

Cognitive exercises such as learning how to create and keep thought records, and a mind-mapping process known as ITEP Mapping will help you develop an awareness of your thoughts and behaviour, and most importantly begin to predict the start of negative thinking, behaviours and cycles of relapse.

At Clouds House, our belief is that the spiritual element of the recovery process is deeply personal and unique to every individual. Our aim is to provide you with the best possible framework, tools, environment and perspective to explore and develop this side of yourself at your own pace.
12 Step Fellowships

At the core of our treatment programme is a modernised version of the Minnesota Model, continuously adapted to remain current, relevant and effective. The Minnesota Model is a treatment model based on the 12 Step programme of Alcoholics Anonymous which was developed in the 1930's, and has been helping millions of people across the world into recovery ever since.

This means that as part of your treatment programme you will be introduced to the concepts and practices of the 12 Step fellowships relevant to your recovery – such as Alcoholics Anonymous, Narcotics Anonymous, Gamblers Anonymous, Sex and Love Addicts Anonymous, Overeaters Anonymous.

As well as an introduction to the principles and concepts of these fellowships, and holding our own in-house meetings, Covid regulations permitting you will be able to attend outside meetings either via Zoom, or in-person locally.

If you've previously heard or been put off by the notion that 12 Step Fellowships are based on religion, please take our word for it that they are not. The spiritual suggestions of the 12 Steps can take many paths and are accessible and relevant to anybody from atheists and agnostics to the faithful and religious from any creed or belief system – or non-belief system.

The only requirement for membership of the 12 Step fellowships is a desire to stop the harmful behaviours associated with your addiction, and acceptance that this is something you have not been able to do alone. 

We urge you to keep an open mind as we believe that being a member of a 12 Step fellowship is your best chance at maintaining abstinence-based recovery once you leave Clouds House.
Relapse Prevention

It is often said that the hard work really starts when you leave treatment!

We know how hard you have worked during your time at Clouds House, but we also understand that transferring the skills you have learned in our supportive and nurturing community can be a challenge – which is why we focus so much on Relapse Prevention across all disciplines of our programme.

At Clouds House, Relapse Prevention is baked into everything we do, from regular dedicated weekly workshops to being the subject of discussion in the group and individual sessions. We invite clients to consider their internal world and the external world to which they will be returning, to get to know, anticipate and recognise their common and individual triggers, with pre-planned healthy coping mechanisms to deploy, rather than returning to old behaviours.

Our comprehensive aftercare programme focuses heavily on relapse prevention.
Aftercare

We have a range of aftercare options to suit individual needs.

To continue providing clients leaving treatment with a network of support as they transition back into their new lives in recovery, we offer 4 interpersonal group therapy options depending on a client's situation.

There are two face to face group therapy sessions in London at Wilbraham Place which are 50 minutes in duration.

One is designed for those who would like recovery support before work (starts at 7.30 am) and the other is late morning  (starts at 10.30 am.)

There is also a similar group for clients wishing to attend aftercare at Clouds House (currently online) however when we allow visitors back in, we will be returning to our usual format at Clouds of a full day of aftercare including 2 x 50-minute interpersonal group therapy sessions and one art therapy session (a gentle way of exploring current experiences using the process of art-making) plus lunch – an opportunity to share the experience of recovery with current Clouds residents around the dining table.

We have now introduced an evening online aftercare group on Thursday evenings between 5.30 pm and 7.00 pm for those who work and need an evening slot to fit in between work and fellowship meetings. This is also 90 minutes of group therapy.

We also recognise that at times, people need a little bit of extra individual support and so our individual aftercare offerings are 50-minute sessions of individual aftercare with one of our counsellors or the aftercare coordinator.

As the client re-enters the family it will be natural that there might be a need for support for members of the family as they adjust and make sense in their own ways of the change. We therefore offer family aftercare in the form of ad hoc sessions as the need arises.
COVID 19 Safety Measures

For so many of us – not least those who are about to embark on giving up an addiction – the times we are currently living in can feel isolating, confusing and anxiety-provoking. With that in mind, we want to reassure you that we are working extremely hard to ensure that you are as safe as possible whilst staying with us. Here are the Covid safety measures that you will expect to see at Clouds House, both prior to your admission and throughout your stay, and to explain the reason for them and their importance.

Click here to view more details on our Covid Safety Measures
Let's face it – going to residential treatment was probably never in your plans. Going into treatment for the first time or the fifth time is not easy, is intensive, takes a lot of courage and hard work. It can be emotionally painful.
Our Treatment Model comes from over 30 years of doing what we know works – ever informed by new research and developments in the field – grounded in evidence and the expertise of our clinical and therapeutic teams. It's what makes us one of the best and most respected treatment centres in the country.
At Clouds House you will enter a community of like-minded people who although may be from many different walks of life, share the same common purpose – to recover from addiction. We know that the community is the beating heart of Clouds House and has been instrumental in helping people recover from addiction for 30 years.
Please have a look at some inspirational stories from recent Clouds House clients and if you think that our treatment programme may be right for you then fill out the application form below. 
The Power Of The Community
Why do we put such an emphasis on the community aspect of Clouds House? It's because the community is at the heart of everything we do, and creates as much unconscious growth, healing, learning and development as the structured treatment programme does.
While you are at Clouds House, a huge part of the progress you make towards a sustainable and meaningful recovery will happen automatically as part of being in a community-based setting. We create and facilitate the potent recovery community that allows for other people to be your mirror and for you to be theirs. With people from all walks of life, it becomes a safe social microcosm that works.
You will develop compassion for yourself and others, you will learn how your behaviour affects them and how their behaviour affects you, and learn how to respond rather than react. You will gain a much greater understanding of relationship dynamics, understand the needs of others, communicate your own needs, how to make amends, repair relationships, end and grieve them appropriately. You'll learn about feelings – recognising which trigger you and how to come up with alternative coping mechanisms.
The community at Clouds House is a family where you will be able to practice the new interpersonal skills you are developing and the new version of yourself that you are becoming.
You'll learn how to build recovery-focused relationships, to talk about things you've never talked about before in ways you could never have imagined.
The best thing of all is that the community is predominantly self-run. We create and maintain the structure, you do the rest. It's such a wonderful shared experience from which friendships can last a lifetime.
Ready for residential treatment?
I NEED HELP NOW!!

Then try our REACH OUT Online Chat Service,

where our team provides free, confidential advice on a range of issues, including drug or alcohol worries and mental health – whether they affect you directly or a friend or relative. And if we don't have the answers to all of your questions, we will be able to signpost you to somebody who will. Our online chat service is currently available between 9am and 3pm Monday-Friday (excluding Bank Holidays). Please note: Reach Out is not a crisis service. If you are in an urgent situation or emergency, such as a suspected overdose, call 999. If you are in crisis, contact the Samaritans.

Reach Out Now